Nordhoff High School


Class Of 1964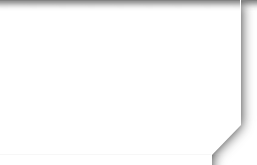 Not a member?
JOIN HERE
Find and click on your name.

UPCOMING BIRTHDAYS

WHO'S ONLINE NOW
No registered users are online right now.
Mini Reunions
Your reunion committee has set up a new way of connecting. When out of town classmates are planning to visit Ojai, we request that classmate to notify us so that we can set up an evening or day gathering. Simply send a notice to Mark Hall,Blair Cooper or Larry Kennedy. We will send out an "announcement" to come and meet our classmate. Once we get responses we will set up a party at a restaurant or residence. It is very informal. Our first opportunity is coming soon when Blair Cooper visits. I will send it on a separate email.
ANNOUNCEMENTS: scroll down to view recent announcements.
Ralph Williams RIP
Ralph Lee Williams, 93, lifelong Ojai resident, passed away Saturday, March 11, 2017 in Ojai, with his daughter, Iris, at his side. Ralph was born in Ojai, August 25, 1923, to Clarence O. Williams and Ada (Plott) Williams, on Ojai's Orr Ranch (now Hermitage Ranch).He is survived by his children, Susan Shorb, Auburn, Calif., Bruce Williams (Ellen), Chandler, Ariz., and Iris "Debbie" Williams and her husband, Kirk Lowry, Ojai; eight grandchildren, 13 great-grandchildren, and one great-great grandchild; his brothers, Glenn E. Williams, Banning, Calif., Jack E. Williams, Lake of the Ozarks, Mo., and Jim M. Williams, Goleta, Calif.Ralph's wife, Betty (Smith) Williams, died in 2013.Ralph, a San Jose State University graduate and skilled woodworker, taught wood shop at Ojai's Nordhoff High and Matilija Junior High schools for 30 years where he also coached athletics. He also taught many summers at the Ojai Valley School. He was greatly loved by his students and fellow faculty. During World War II, he served in the U.S. Army Air Corps (1941-45) in the Pacific.
Merry Christmas to All
Just want to wish everyone a Very Merry Christmas.
Gregory Greene
Emails Bouncing
If your name is on this list it is because your email address has bounced for various reasons (ecxample your mailbox was full and you could not receive an email notification from our website.) Once this happens you can no longer receive email notifications from the site. This can be fixed only by you following instructions on the website which you will see when you log on. Here is the list of classmates whose emails are bouncing:
Lorraine Ballenger (Rodarte)
Linda Pike
Rodney Baudizzon
Sandra Stiefel (Beckner)
Betsy Sutherland (Svitenko)
Nancy Nelson (Coker)
If you need help resolving this issue. Please contact me. I will be glad to help. Blair
Links to 70th Birthday Celebration Photos
Here are the links to the 70th Birthday Celebration in June. You already should have received some of these in July in an email. What's new here is the addition of Fred Brue's photos:
70th Birthday Celebration Great Success!
The 3 day Birthday Party Celebration, June 24-26, 2016 was a great success. Friday night the group met for dinner at Boccali's. Saturday breakfast (Yogurt Pancakes, Bacon and Eggs and Fruit Salad), at St. Thomas Aquinas Church, prepared by a large number of class member volunteers, was a huge gastromomic success.
This was followed by a fabulous tour of the Upper Ojai KB "Pete" Hall Apricot Ranch. Tour guide Mark Hall recounted the history of this amazing place where some of the trees are over 100 years old. We learned of a penny-pinching German prior owner who went all the way into Santa Paula by horse drawn carriage to buy a washer to fix the windmill pump but when he got there he found it cost 5 cents which was for him outrageously expensive. Thus he returned to the ranch and made his own washer.
Next there was a trip to Dwayne Bower's Vintage Car Garage/Museum. Dwayne started as a young boy building plastic model cars from kits and customizing them. He graduated from plastic models to the real thing. Throughout his life he has continued buying, restoring, customizing and collecting classic and vintage cars. He probably has more than 100 of them which he now leases to Hollywood for use in making movies.
Saturday night we congregated at the Art Center's outdoor patio for a buffet dinner provided by Ojai's own Westfield Market and an evening of conversation and inexpensive boxed wine. Some people brought their own libations. Mary Nelson has some excellent Mezcal. Next time we should consider suggesting BYOB for those who don't like cheap wine. Dessert was a blue and gold birthday cake with ice cream. The weather was pleasant and a great time was had by all. There were a total of 32 people attending the dinner including, classmates, family, friends and a couple from other classes.
Sunday morning a farewell breakfast/brunch was held at Mary Nelson's house. All in all it was a wonderful weekend with lots of time for conversing and reminiscing.
I just returned to my home in Virginia so I haven't had time yet to post photos of the event but I will shortly. So watch this space for pictures of the event. I will try to set it up so that if any of you have photos you will be able to post them online.
Blair 12 July 2016
John Harnett passed away
Funeral services for John Harnett, who passed away peacefully on Tuesday morning, July 5, 2016, will be held on Saturday, July 9th at 2:00 pm at St. Thomas Aquinas Church in Ojai. All are welcome. Dad taught math and coached boys and girls tennis at Nordhoff from 1960 to about 1995. Please share this post so others, especially former students, will be informed. Thank you!
This message was provided by Jeanannette Poulis Parker. It must have been sent to her by Mr. Harnett's son or daughter. Thanks Jean for forwarding the information.
Blair July 12, 2016
70th Birthday Weekend Schedule as of 6 June 16:
June 24 (Friday): 6 PM - 9 PM (No host dinner)
Venue: Boccali's Ojai east end
3277 Ojai Avenue, Ojai, CA 93023
Activity: No Host Dinner
June 25 (Saturday): 8 AM - 5 PM (Tickets $25 through June 15, $30 thereafter)
Venue: St. Andrews Episcopal Church 8 AM - 3 PM
409 Topa Topa Dr, Ojai, CA 93023
Activities:
8 AM - 9 AM Set up
9 AM - 10 AM Pancake Breakfast - Cooks: Blair Cooper & Whitney Maudsley (a.k.a. Pam McKee)
10 AM - 3 PM Home base and staging area for connecting onsite and for visits to Ojai Olive Company, KB Hall Ranch, Dwayne Bower Vintage Cars, and downtown walking tour.
Venue: The Art Center 4 PM - 10 PM
113 So. Montgomery St., Ojai, CA 93023
Activities:
3 PM - 4 PM Set up (Volunteers Welcome)
4 PM - 6 PM Happy Hour and Social (Beer, wine and snacks provided. BYO hard liquor)
6 PM - 10 PM Dinner and Social
10 PM - 11 PM Clean up (Volunteers Welcome)
June 26 (Sunday): 10 AM until the last person leaves (No host breakfast)
Venue: A Local Establishment (to be determined)
Activity: Breakfast, social and good-byes
Notes:
Lunch on Saturday: Individuals and groups will need to decide where and what to eat for themselves. Example: You might want to take a bag lunch to the Vintage Car exposition.
Cell phone numbers will be provided prior to the event to provide assistance during the weekend.
William K. (Hayes) Harrington R.I.P.
We knew him as Billy Hayes. Our yearbook lists him as William Keith Hayes. According to the records of Paine County, Washington, William K. Harrington passed away on September 20, 2014.
After an exhaustive search of Military and public records I was unable to find an obituary or anything other than a simple Washington State report of death. There isn't any information posted on the cause of death nor any details about relatives. Normally I don't post information on classmates passing away unless I have confirmation from family and or detailed obituaries. This is in an effort to avoid starting unnecessary rumors.
The initial indication that he had passed away came from our classmate, Janet Sparks Harris. Her cousin, Karen Sparks, was married to Billy. They moved around a lot and did not keep in close contact with family. Janet reported that Billy's most recent state of residence was Washington and that he had passed away in 2014 sometime before Christmas. She also said that his wife, Karen, passed away sometime shortly after Billy. Janet believes that Billy had served in Vietnam.
If anyone has additional information, I would appreciate it if you would let me know.
Blair posted 12 May 2016
Roy Strader Passed Away
We just received the news from his son Roger Strader.
Roy Strader, my father, and a teacher at Nordhoff High school for 33 years, died on July 4th, 2015. He was living in Oregon at the time.
Blair posted 6 May 2016
70th Birthday Weekend Celebration
June 24-26, 2016 in Ojai.
Plan to be there
Click here to see 70th Birthday Flyer (Revised)
Check this space (Announcements) periodically for updates and more information.
Blair posted 18 Apr 16
Gibson (Gib, Gibby) Tim Franciscotty passed away
February 16, 2016 in Colorado Srpings, Colorado. Click here to see his obituary.
Thanks to Jean Poulis parker for providing the information.
Blair posted 18 Feb 16
Memorial Fund Donation
Our first Memorial Fund donation arrived recently! Thank you very much Jim Christianson for mailing in a check, kicking off this fund which we established to provide flowers and a card for our classmate funerals.
We learned of the most recent death, Lorenda Austin Cianci, too late to send flowers. We have reached an age when death will increasingly become a more common occurrance. We would appreciate it if all of you would be on the lookout for news of classmates passing and, if possible, let us know in a timely manner so we can send flowers.
blair 7Jan16
Sad News: Lorenda (Austin) Cianci Passed Away

Lorenda Cianci passed away October 3, 2015 in Medford, Ore. Her passing was peaceful and gentle.

She was born December 12, 1945 to Carl D. Austin and Victoria Warfield Austin in Berkeley, Calif.

The family moved to Ojai, Calif. where she enjoyed an idyllic childhood of dolls, dress up, kittens, novel reading, and friends. Lorenda loved to laugh with friends and especially her family.

In Jan 1966, she married her college sweetheart, Mats Clarin. Together they graduated from Ventura Community College in June of 1966. After college they moved to Sweden to start their family. Lorenda lived in Sweden for 10 years. She worked for Scandinavian Airlines as a translator. She gave birth to her beloved children, Tammy L. A. Clarin Olsson and the late M. Stefan Clarin.
Click here to read full obituary on the In Memory Page of our website.
MEMORIAL FLOWER FUND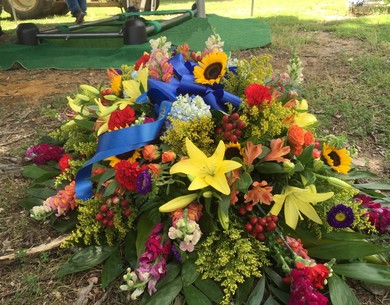 We recently established a "Memorial Flower Fund" to buy flowers for the funerals of our classmates. If you would like to donate to the fund please make a check out to the Nordhoff Class of 1964 and send it to class treasurer:
Mark Hall
2300 Cienaga St #20
Oceano CA 93445
Be sure to include a note explaning that the check is for the Memorial Flower Fund. Flowers will be delivered with an appropriate card in the name of the entire class.
Blair 27 December 2015
Troy Helton Memorial Service
Fred Brue sent me this photo of the Nordhoff Class of 64 contingent at Troy's Memorial Service. In my email to the class earlier today I said we were represented by Fred and Glenda. I am posting this photo to correct my statment in the email. We were actually represented by Kenny Hale, Joe Kielty, Glenda and Fred!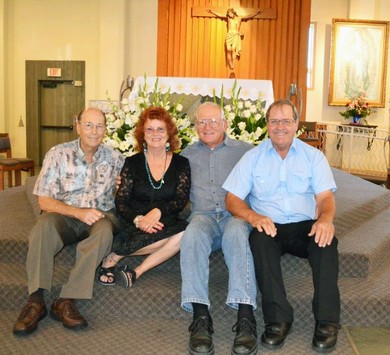 Thanks to the four of you for representing the class.
29 June 2015
Mini Reunion 2015 in the Desert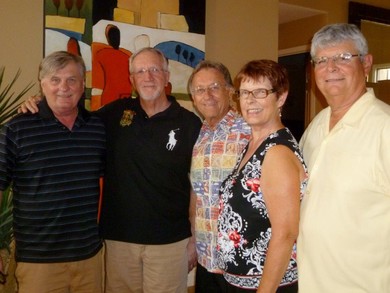 Reunion Photo - Fun was had by all - I wasn't there, but that might have been...could have been... the kick off planning meeting for our next regular, large, not mini, reunion to be held in California in 2016 to celebrate our classmates 70th birthday. Pictured: Larry Kennedy, Mike Mizel, Jim Christianson, Diane Timms, Gary Cuccio. If you have any newsworthy photos like this please pass them along to me and I will post them on the site. Blair 10/17/15
Dennis Wallace RIP Dies October 23, 2014 of cancer.
To see his obituary go to his In Memory Page or click here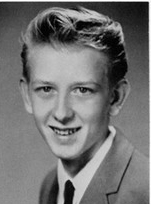 50 Year Reunion Was a Huge Success!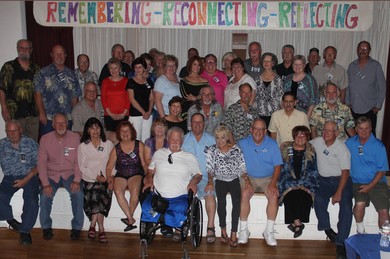 Here's the Group Photo taken at the Women's Club on 4 October 2014
I will work on the Memory Book/DVD when I get home to Virginia on October 14 which will include the multimedia slide show and all photos I gathered at the reunion including the photo booth, those from the official photographer and those from individuals. If you took photos on your cell phone please send them to me via email or by any other means.
Once the Memory Book is done we'll send it to those who attended and for whom we have good up to date physical addresses. Send me your address if its not up to date. For those not attending, you too can get a copy. contact me if you want one.
My apologies to those whose faces do not show up in the photo above. I'll take care of it in the Memory Book.
Blair
Salute Jeananette and Bobby Parker...
...for their donation to the 50 Year Reunion. Now it is your turn to donate to the "Nordhoff Class of 64" (Mark Hall, 2212 River Drive, Stockton, CA 95204). We have committed to a Photo booth! We also expect more surprises.